"Leaders Touch a Heart Before They Ask for a Hand"
In John C. Maxwell's book The 21 Irrefutable Laws of Leadership: Follow Them and People Will Follow You (2007), John shares the importance of connection and leadership.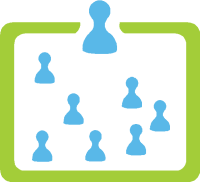 The stronger the relationship, the more effectively the leader can persuade people to help. Connect with people at an individual level. When speaking to groups or working with groups, always remember that the group is a collection of individuals. Each of those individuals have their own needs, wants, and desires. When you understand what individuals need and you strive to fulfill those needs, you improve the ability to reach your goals and the stronger your leadership becomes.
John provides the following tips to improve your ability to connect with people.
1. Connect with yourself – Understand yourself and develop confidence in your skills, knowledge, and ability to share those with other people. Don't underestimate this tip. Over the years, I have had the opportunity to encourage people to overcome their public speaking fears and lack of self-confidence to speak before groups and to share their insight in a variety of topics. Some of those people unearthed their ability to share their knowledge in groups quite effectively and persuasively.
2. Communicate openly and sincerely – People sense quickly the level of your sincerity. Good leaders connect with others through openness, honesty, and sincerity.
3. Know your audience – You connect with people when you know their names, history, dreams, goals, want, needs, and desires. As a leader, you need to balance your needs with the needs of others.
4. Live your message – You build credibility when your actions match your words, refer to the law of solid ground.
5. Remove communication barriers – Communication barriers come in many forms. Physical barriers are the most obvious communication inhibitor, but you can improve your connection by adjusting your language (verbal and non-verbal) to the culture, background, and education of your audience. Adapt to others, do not expect them to adapt to you.
6. Focus on your audience not on yourself – John claims this is a major issue with inexperienced or ineffective leaders. When you focus on your audience rather than yourself your connections develop much faster. One of my managers summarized this tip simply, "It's not about you, it's about your people."
7. Believe in your audience – Communicate with the understanding that your audience is valuable not with the motive that what you say is valuable.
8. Offer your audience direction and hope – People expect leaders to provide the guidance necessary to reach objectives. Good leaders provide that guidance but also provide a sense of hope for the future.
Positional leaders often struggle with the law of connection. Due to their position, they often mistakenly believe that their employees should initiate the connection. Successful leaders initiate the connection and expend the effort needed to build solid relationships. Remember that the greater the challenge, the greater the need for strong relationships.
A book worth exploring is Life Is a Series of Presentations: 8 Ways to Punch Up Your People Skills at Work, at Home, Anytime, Anywhere. Tony Jeary provides many insights into improving your presentation skills. The word presentation is used broadly to apply to all interactions that you have with people, not just formal presentations. I recommend reading the book to gain a deeper understanding of your presentations with everyone your interact with and improve the connection with other people.

I wish you well on your personal growth journey. I appreciate your additional insight, so feel free to comment to share your thoughts and experiences.
Links
Links to other posts in this discussion on the laws of leadership.
Mind map of the 21 laws of leadership.
Introduction to the leadership laws | 1 – The Law of the Lid | 2 – The Law of Influence | 3 – The Law of Process | 4 – The Law of Navigation | 5 – The Law of Addition | 6 – The Law of Solid Ground | 7 – The Law of Respect | 8 – The Law of Intuition | 9 – The Law of Magnetism
Reference
Maxwell, John. (2007). The 21 irrefutable laws of leadership: Follow them and people will follow you. Nashville, TN: Thomas Nelson Publishers.