"A Leader's Potential Is Determined by Those Closest to Him"
In John C. Maxwell's book The 21 Irrefutable Laws of Leadership: Follow Them and People Will Follow You (2007), John shares the law of the inner circle.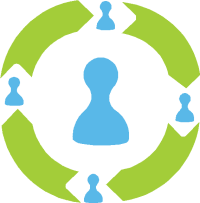 A leader does not achieve success alone – on his own merits. A leader depends on his core team to achieve great things together. Without a good team, the opportunity to perform at high-levels and produce consistently does not exist. The law of the inner circle dictates that a leader's potential comes from those that are closest to him – the team.
Excelling in all 21 laws of leadership is nearly impossible. In the modern business world, the possibility of mastering all of the disciplines required for success is also nearly impossible. As a result, the importance of teamwork is more important today than ever before. Leaders find success in teams and assumes the responsibility to help every team member find success in that team. Effective leaders expend the effort to find suitable team members then nurture them to maturity. The effective leader mentors the team to enable accomplishing great things together.
John provides the following items for consideration to build a strong inner circle.
1. Do members of the inner circle possess the ability to influence other people?
The ability to influence people is a key trait of successful leadership. When your inner circle consists of people that influence others, your own influence multiplies exponentially.
2. Do members of the inner circle possess complementary talents and skills?
We tend to attract people like ourselves, see the law of magnetism. Attracting people that complement your personal weaknesses takes awareness and intention. The successful leader recognizes his own weaknesses and is not threatened by those that display strength in those weak areas.

3. Do members of the inner circle possess a strategic mindset?
I differ with John's statement "Do they hold a strategic position in the organization?" While the leverage received from a position is beneficial, not all leaders possess an inner circle with people in position. I prefer a strategic mindset. Those that possess a strategic mindset look beyond today and consider today's actions on the future state.
4. Do members of the inner circle add value to you, other team members, and the organization?
People either add or multiply value or divide or subtract value. People with negative attitudes detract from your ability to lead. I do not imply that people with differing thought and opinion fall into the negative attitude category. That is the trait of a weak and ineffective leader. However, negative people reduce the value of the team and organization just as a liability devalues the balance sheet.
5. Do members of the inner circle contribute positively?
Attaining synergy requires that every team member interact with others in a positive way and contribute to team success. As I eluded to in item #4, valuable team members often have disagreements but handle those disagreements in positive ways. Some people mistakenly believe that withholding knowledge somehow provides job security. Such is rarely the case. Sharing knowledge and expertise builds teams and provides the ability to pursue new challenges and opportunities. Unfortunately, I have witnessed those that clung so tightly to existing knowledge and skills only to find themselves with knowledge and skills no longer valuable in a changed environment.
Members of the inner circle need to exhibit excellence, maturity, and good character in all aspects of their lives. Leaders often focus much of their effort working to improve the lowest performing people. Under-performers tend to display poor attitudes and unwillingness to pursue new challenges or or an unwillingness embrace change. A leader that focuses on changing these traits expends an inordinate amount of time often producing little in the way of  positive results. Investing in your best performers returns a much higher return on your investment.
Building the inner circle takes time and effort. Many fail to make the investment and pay the price of mediocrity. Your leadership potential relies on your inner circle, so developing your team deserves your attention and effort.
Improving your capacity to accomplish more and increasing your leadership potential requires that you continually focus on your personal development, see the the law of process, then focus on building your inner circle.
I wish you well on your personal growth journey. I appreciate your additional insight, so feel free to comment to share your thoughts and experiences.
Links
Links to other posts in this discussion on the laws of leadership.
Mind map of the 21 laws of leadership.
Introduction to the leadership laws | 1 – The Law of the Lid | 2 – The Law of Influence | 3 – The Law of Process | 4 – The Law of Navigation | 5 – The Law of Addition | 6 – The Law of Solid Ground | 7 – The Law of Respect | 8 – The Law of Intuition | 9 – The Law of Magnetism | 10 – The Law of Connection
Reference
Maxwell, John. (2007). The 21 irrefutable laws of leadership: Follow them and people will follow you. Nashville, TN: Thomas Nelson Publishers.