Leaders that excel at the law of empowerment recognize seven important factors and comply with those seven factors to build strong capabilities in those they lead.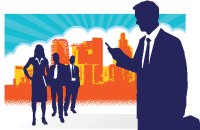 7 Factors Needed to Empower Those You Lead
1. Value people. Leaders that truly value people and appreciate the benefits received through teams that demonstrate thought and skill diversity are more prone to empower others.
2. Share Vision – people flourish in environments where they feel they are part of something bigger than themselves. Leaders that share their vision focus their teams to pursue a common direction and empower them to work towards a common goal and purpose.
3. Communicate. Leaders that communicate the direction and provide clear objectives build a mental model or picture that guides their team toward success.
4. Trust people. Leaders that trust people to make the right choices find following the empowerment law much easier than those leaders reluctant to trust. I find that most people want to do the right thing. Leaders that model good leadership behaviors discover that others will also learn and model those behaviors.
5. Enable effective decision-making. Leaders that empower effectively provide the information necessary for team members to make decisions. Poor leaders shy away from the effort to create the environment for others to make decisions opting instead to withhold the decision-making authority for themselves. This simply creates bottlenecks, limits capacity, and prevents growing other strong leaders.
6. Delegate. Leaders must learn to delegate in order to empower people. Many leaders consider delegation a lose of their own power. But leaders that delegate effectively find that building other strong leaders earns them even more power and influence. Effective delegation requires delegation of authority and establishing accountability. See article Improve your Capacity with Effective Delegation for additional information.
7. Recognize and reward positive empowered behaviors. Behaviors that get rewarded get repeated. Great leaders recognize the power of genuine and well-timed praise and rewards.
I wish you well on your personal growth journey. I appreciate your additional insight, so feel free to comment to share your thoughts and experiences.
Links
12 – The Law of Empowerment
Improve your Capacity with Effective Delegation